Welcome to McKinney Jewelry and Loan – Best Pawn Shop In McKinney Texas
Here to serve you Monday – Saturday:9:00 AM – 7:00 PM – Sunday: 09:00 A.M – 6:00 PM
Stop In or Call Us Now (469) 296-8500 – We Loan More!
---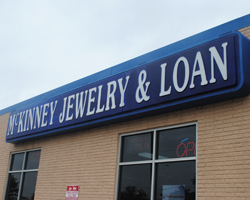 McKinney Jewelry and Loan
Getting the Cash You Need is as Easy as 123,
All you need to do is:
1. Bring in your merchandise.
2. Show your proper state issue ID
3. Get the cash you need.
McKinney Jewelry and Loan accepts a wide variety of items such as jewelry, computers, tools, home audio, TV's, video game systems, and much more. We are one of the largest sellers of new and used firearms in McKinney. We have a 12 month interest free layaway program. You just need to make a down payment and then the remainder of the balance is divided up for 11 monthly payments. For more details and information just call our knowledgeable staff members at (469) 296-8500 and they can answer all of your questions. You can also send us a message!
The founders and owners of our shop have much experience in the pawn industry. They are pleased to call McKinney Jewelry and Loan their home and look forward to working with you. Stop in any time. You never know what you might find! McKinney Jewelry and Loan, located in McKinney Texas.
---
We are proud member of: